Orthodontics in SE Calgary
Orthodontics refers to dental problems related to:
Alignment
Gaps between teeth
Overcrowding
Overbite
Underbite
Crossbite
All of the dental issues listed above can be corrected with Invisalign treatment. Say good bye to the days of old metal brackets and wires.
Our practice offers orthodontics.
At our dental clinic in SE Calgary, we offer Invisalign in Legacy to improve your smile. Contact our office to schedule your consultation today.
What is Orthodontic Treatment?
Orthodontics near you is a specialized field of dentistry that focuses on aligning teeth and correcting the bite to optimize the functionality of your mouth. Orthodontic treatment can range from metal brackets and wires to clear aligners. The duration of treatment can vary, depending on the severity of your orthodontic concerns and your diligence. Once you have completed your treatment, you will be provided with a retainer to wear. It's essential to wear your retainer as it maintains the new positions of your teeth and prevents them from reverting to their old positions.
What Are the Benefits of Orthodontic Treatment?
Orthodontic treatment can provide many benefits to patients. While it may seem like a lengthy process, the end results will definitely be worth it. The following are some benefits that come with orthodontics in SE Calgary:
They improve your smile
They increase your confidence after treatment has been completed
They provide permanent, long-lasting results
They are effective
They are more comfortable now than ever
They improve your oral health
They can improve your ability to eat and chew
Straighter teeth not only look more beautiful, but they are much easier to clean. This allows you to thoroughly remove food particles and bacteria from your teeth, decreasing your risk of developing a cavity or other oral health problem. If you have any questions or would like to receive orthodontics near you, please contact us! Our dentist will be happy to answer all of your questions, examine your teeth, and determine if you are an ideal candidate for the treatment.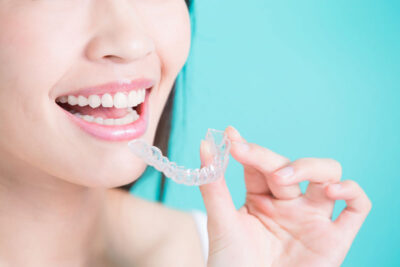 Straighten your teeth with Invisalign invisible braces.